It's a match made right at the airport. TravelSmith is excited to team up with travel expert and television personality Samantha Brown. Through adventures that have taken her to 220 cities and 49 countries, Samantha has become one of the most respected voices in travel. We sat down with Samantha to ask her a few questions about her travel experiences and to get some insider tips.
Click here to check out Samantha Brown's favorite TravelSmith items.
Q: What do you love about travel?
SB: Travel is one of the few experiences we have in life that mark a fresh start, whether your trip is a weekend or a month.
Q: Why did you choose to join forces with TravelSmith?
SB: TravelSmith has always represented a quality experience through its clothes and gear. Never gimmicky or trendy, it's about what works so you can enjoy the trip.
Q: What's your secret for traveling light?
SB: All my clothes have to match—if I bring 3 pairs of pants and 3 tops, I have 9 outfits. Belts and jewelry complete the transformation.
Q: What's your one must-pack carry-on item?
SB: A nice scarf keeps me warm, and I can wrap it around a "questionable" airplane pillow. Plus, it gives me a more put-together look when I'm disheveled from a long flight.
Samantha's Top Three Travel Tips
Arrival Techniques
• Check out the airport so you know where to eat & how long it takes to get there for your return flight.
• Test out your hotel shower so there are no surprises at 6 a.m.
• Move valuables out of grabbing distance from the hall (housekeepers are honest but who knows about the other hotel guests).
• Go for a walk outside—it's the best remedy for jet lag.
Learn from the Locals
While the hotel concierge can offer plenty of advice, you might get better restaurant tips from the housekeepers. I discovered an excellent trail and waterfall from the rental car agent. And one of the best breakfasts I ever ate was recommended by a nighttime security guard. The world is full of experts, but you'll never know until you ask.
Think Outside the Bag
You can fit more in a quart-sized 3-1-1 bag than you think. Ask for samples when you buy makeup and get your hair cut—these work perfectly for travel. Your 3-1-1 bag should be like Halloween candy—all of your favorites, just in much smaller sizes.
See more Travel Tips by Samantha at samantha-brown.com.
We asked Samantha to tell us what she loves about some of her favorite TravelSmith items.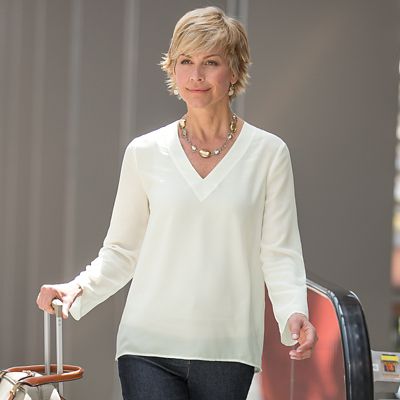 "The great thing about lightweight tops? They can be paired with everything and pack like nothing."
Shop the Miranda V-Neck Top >>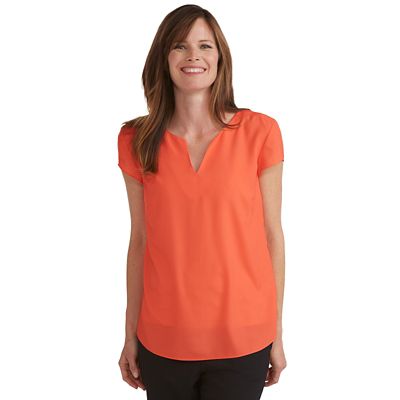 "Anything with a cap sleeve adds instant appeal to an outfit. And I love the bright color!"
Shop the Zip-Back Cap-Sleeve Top >>
"Not sure what I like more about this scarf – its two-tone styling, or the hidden pockets for carrying a few essentials."
Shop the Under Wraps Infinity Scarf >>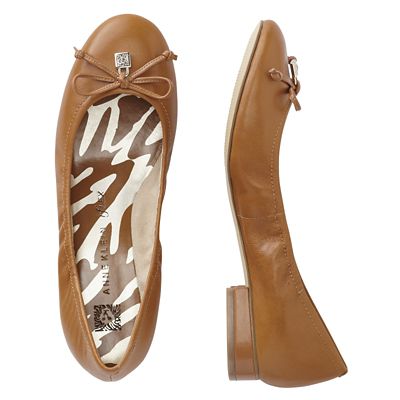 "The perfect flats for travel: Not too rigid, with a little heel."
Shop the Anne Klein Petrica Ballet Flats >>
"This light-as-a-feather scarf lets you easily add a subtle or dramatic touch."